Shower board with point drain.
With integrated fall, tiles can be applied directly.
Qboard® liquid shower element
Installing a floor-level shower can be this easy - with Qboard® liquid. The XPS board is the perfect substrate for a walk-in shower. Its built-in fall and drain flange save lots of time-consuming work steps. Easily install your flush-fitting shower with a suitable drain system, then tile it as you wish.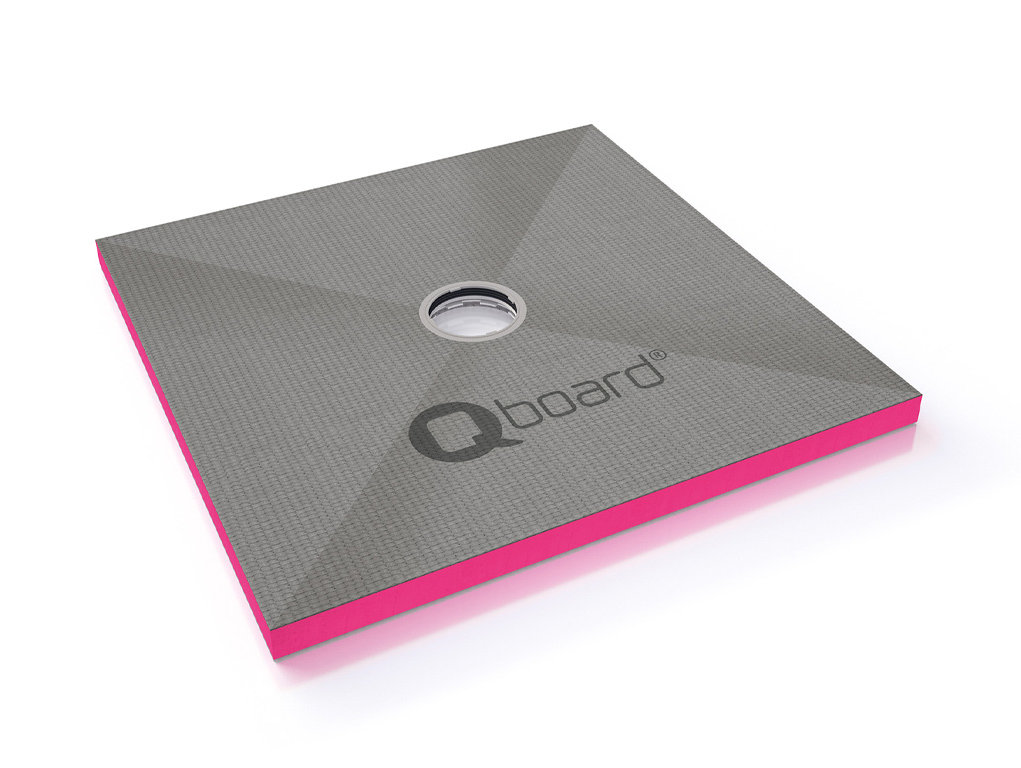 Product features of Qboard® liquid
Shower element which can be tiled for floor-level showers
Waterproof polystyrene foam core with special coating on both sides
Built-in fall
Sealed drain flange
Wheelchair-accessible
Compression proof
Thermally insulating
Easy installation
Central or off-centre drain position
Dimensions: 900 x 900 mm, 1000 x 1000 mm, 1200 x 1200 mm, 1800 x 900 mm, 1600 x 900 mm
Thickness: 40 mm, 50 mm
Qboard® is waterproof thanks to its XPS core. Only butt joints need to be sealed. Use the Qboard® sealing kit for this.
Alternatively, butt joints can also be sealed with Qboard® sealing tape (or equivalent) using a suitable liquid composite sealant (such as a mineral sealant).
Yes, the sides of Qboard® liquid shower elements can be cut in principle. Please note that the shower element will be thinner than before where it has been cut due to its integrated fall. You may need to apply filler here before tiling.
The maximum shower element size is 1500 x 3000 mm. In principle, any shape is possible within this surface area. The maximum size may be smaller for shower elements with an off-centre drain position. This depends on the position of the drain. Depending on the size, the thickness of the shower element is 40 mm, or 50 mm for larger dimensions. The minimum distance of the drain from the edge is 250 mm (measured from the centre of the drain to the side edge of the shower element).
The overall height of the Qboard® liquid shower element including the floor drain depends on the size of the shower element and the drain used. The overall height of a shower element with a horizontal drain is between 110 - 125 mm.
The drain for a shower element with a vertical drain can also be fully sunk into a hole drilled into the concrete surface. Then the installation height will just be 45 or 55 mm (40 or 50 mm shower element + 5 mm bonding mortar).
The exact details of installation heights can be found on the last page of our instructions for use.
All types and sizes of tiles can be used in principle. Special tile adhesives and grout should be chosen depending on the tile size and thickness.
| | | | |
| --- | --- | --- | --- |
| Tile size | Tile thickness | Tile adhesive | Grout |
| > 25x25 mm | ≥ 4 mm | standard tile adhesive | standard grout |
| ≤ 25 x 25 mm | ≥ 4 mm | standard tile adhesive | epoxy resin grout |
| ≤ 25 x 25 mm | < 4 mm | epoxy resin tile adhesive | epoxy resin grout |
Yes, a wheelchair can be used on Qboard® liquid. Keep to a tile size of ≥ 50 x 50 mm in this case.
---
The product in these applications: