The element for pipe cladding.
Easy-to-use prefabricated corner element.
Qboard® qorner angle element
The Qboard® qorner prefabricated angle element ensures clear edges and clean corners in the bathroom. Fixed to walls and ceilings in just a few steps, it hides pipes and conduits of any kind. Afterwards, Qboard® qorner can be covered with tiles, filler or plaster, ensuring a uniform design throughout the bathroom.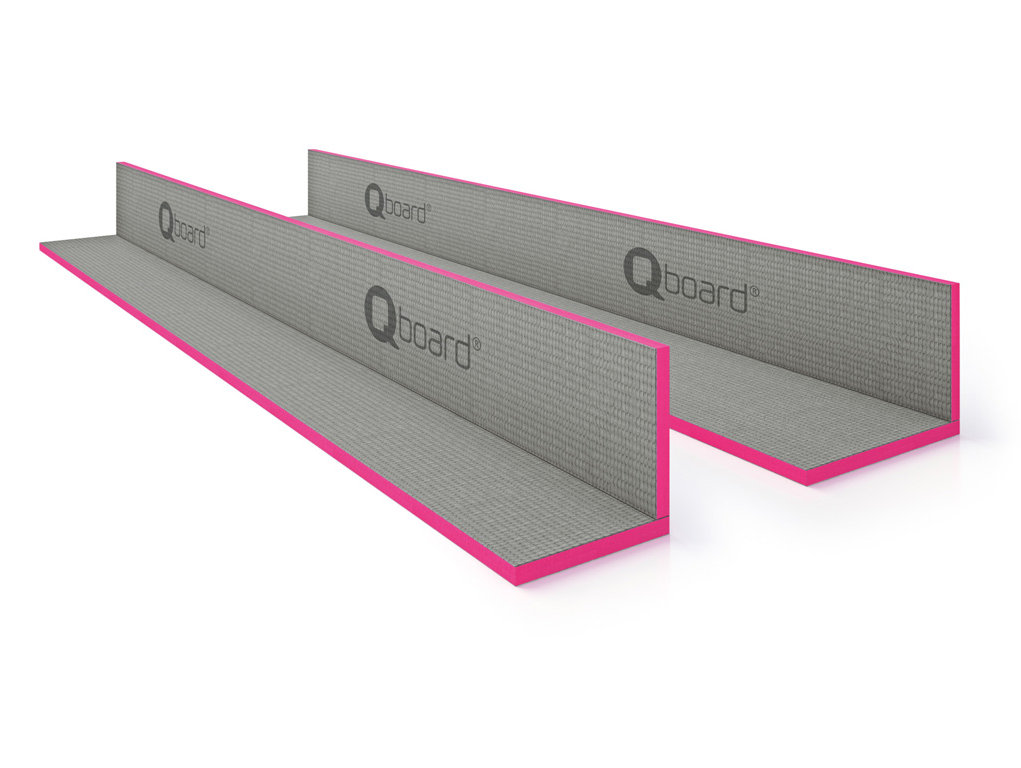 Product features of Qboard® qorner
Qboard® qorner is prefabricated with a 90° angle, so you don't have the bother of accurately cutting to size.
90° angle for fast pipe cladding
Waterproof polystyrene foam core ideal for wet rooms
Mortar coating on both sides suitable for the direct application of tiles, filler or plaster
Lightweight for easy handling
Compression proof
Bend-resistant
Thermally insulating, also suitable for interior insulation
Easy to use with simple tools
Dimensions: 150 x 150 mm, 200 x 200 mm, 300 x 300 mm, 400 x 200 mm
Length: 1200 mm, 2600 mm
Thickness: 20 mm
Any conventional tools: knives, cutters, handsaws, electric jigsaws, electric circular saws or circular table saws. You can use sandpaper for precision work and if you need a hole, then just use a screwdriver.
Yes, surface finishes can be applied directly, such as: tiles, plaster or thin skim/finishing coats of plaster.
Tip: If you use filler or gypsum plaster, a primer will be needed. Follow the recommendations of the filler or gypsum plaster manufacturer.
Yes, with a solvent-free emulsion.
Yes, the core of the Qboards® consists of extruded polystyrene foam, a synthetic material that has excellent thermal insulation properties. It has a thermal conductivity of approx. 0.035 W/(m·K).
No, Qboards® are not soundproof.
---
The product in these applications: